Frequently Asked Questions
How Can I Delete an Email Notification?
You can delete your email notification by clicking the Trash can icon

on the actions section right next to the email notification you want to delete. However, if you have already sent the email you want to delete to your recipients, you have to delete the credential campaign you used directly.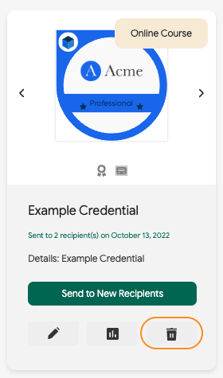 If you go to the Credentials tab on the left to delete the credential you sent before, it will be deleted from the email notification along with all the information of the certificate. Click on the Trash can icon next to the Edit option to delete your certificate.
See the related article on how to delete a sent credential.