Sertifier's Verification Page feature lets you deploy your own branded verification page where your certificate and badge receivers will be sent to when they receive their emails. The process is fully automated, so your website will be live as soon as you finish the needed steps.
There are two ways you can use your branded verification page. You can either use a subdomain of the domain verified.cv which we register for you automatically.

Or you can configure your own address, for example credentials.example.com with the Custom Domain field.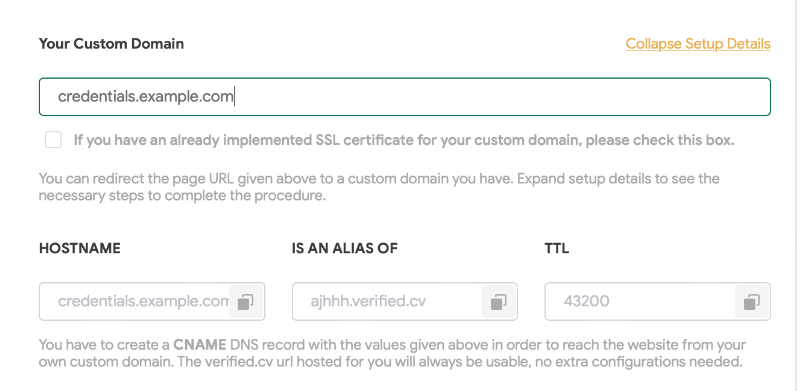 If you choose to use a verified.cv subdomain and not a custom domain, you do not need to do any extra configuring. You can directly go to the bottom of the page and set your website to live.

If you choose to use a custom domain, you will need to add one CNAME DNS record to your DNS provider service. The values of the DNS record will be in the expanded view of the custom domain section, as seen in the screenshot above.
Please note, most DNS providers will put the value you enter in the hostname area in front of your original domain name. So if your domain name is "example.com" and your hostname value is "credentials.example.com", the record can be created with the hostname value "credentials.example.com.example.com" which will result in the verification page not working correctly of course. If this is the case, just enter "credentials" as your hostname value and the resulting hostname value in your record will be "credentials.example.com".
The remaining fields in the verification page forms are all for your branding and customization. You can customize as much as you want, the fields that are left blank will be replaced by our default values so nothing is required.