You can submit a name change request to your issuer If there's a typo in your name, or If your name is written wrong on your digital credential.
If the issuer of your digital credential happens to make a typo on your name, or your name is written wrong, you can send them a Name Change Request to correct it.
You can submit your Name Change Request from the credential viewing page.
---
How To Request a Name Change

* Sign in to your Verified account.
* Scroll down on the page and click on the "Name Change Request" button right under the place your issuer information.
* Type the correction of your name.
* Click "Send Request".
---
What Is the Expected Approval Timeline for My Request?
Please note that It might take a few days for your issuer to review your request.
---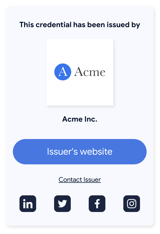 If your request has been declined, it might be due to insufficient evidence for your issuer to approve your request. In that case, we advise you to get in direct contact with your issuer via email. You can easily access the "Contact Issuer" link on your credential viewing page to email them directly.