With our latest feature, we provide you a new level of security, a step towards credential ownership.
Imagine having all your professional accomplishments neatly organized and easily accessible in one central location. This not only streamlines the process of maintaining your credentials but also enhances your professional image by making it effortless for your network to recognize your expertise and achievements.
Utilize our LinkedIn Signup Feature to effortlessly establish your Verified profile, allowing you to first curate your accomplishments before presenting them on your LinkedIn profile. Here, you can manage, store, and exhibit your digital credentials.
This feature will help you to store your credentials all-in-one place, while adding an extra layer of security to your credentials. One of the standout advantages of this feature is the added layer of security it brings to your credentials. You can trust that your achievements are safeguarded within Verified's secure environment in an age where data security is paramount.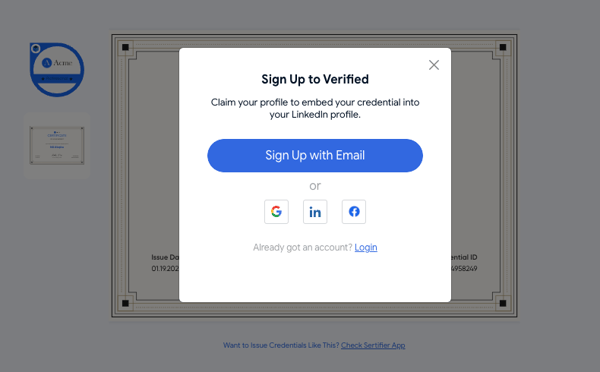 Please note that in order for your recipients to share their certification on LinkedIn, they need to sign up for Verified using the email address through which they received their certification from you.